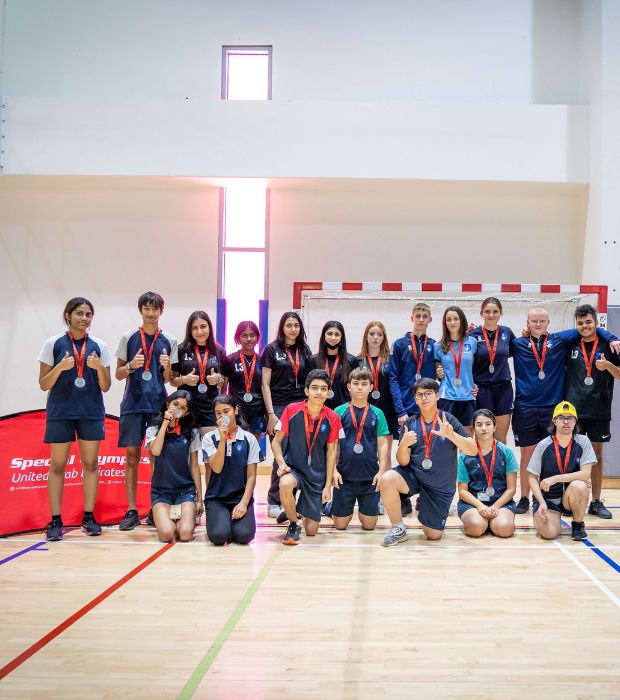 Special Olympics UAE signs an MoU with GEMS Education
Special Olympics UAE and GEMS Education have signed a Memorandum of Understanding (MoU) during a Unified Badminton event at GEMS Wellington Academy School - Silicon Oasis.
Fatma Mohamed, Head of Strategy and Projects at Special Olympics UAE, signed the MoU with Zafar Raja, Chief Operating Officer of GEMS Education.Aimed towards progressing the concept of inclusion across school communities, the MoU comprises various areas of collaboration, based on the Unified Champion Schools programme model, which acts as a catalyst for People of Determination with intellectual and developmental disabilities, in mainstream education, to be included with their peers in schools.
In line with this MoU, GEMS Education will be appointed as an Official Partner for the Special Olympics UAE. Selected GEMS Education schools will earn the Unified Champions Schools program title within a specific timeline, based on the performance of each school and the progress it achieves. Special Olympics and GEMS Education also agreed to appoint a coordinator for each school's Unified Champions Schools program, to be the focal point of communication between both entities.
The MoU terms also included promoting Unified Champions Schools program activities and events at GEMS Education schools, including social media platforms, the official website, and designed flyers. GEMS Education will also provide its school's facilities to Special Olympics UAE for annual training and activities under the Unified Champions Schools program in Abu Dhabi.
Talal Al Hashemi, National Director, Special Olympics UAE, said, "We are delighted to announce another fruitful collaboration, represented by this MoU with GEMS Education. Special Olympics UAE works with its strategic partners to create an environment of inclusion and acceptance in school communities and society across the UAE. We are positive that this MoU will enable more GEMS Education schools from the knowledge the Unified Champion Schools program presents to all students with different abilities."He added, "Working together with our stakeholders provides many tools for students of different abilities within school communities. We believe that diversity and inclusion create the shortest way to achieve social harmony between individuals, and that is what we aim to implement across all school communities in the UAE.
"Zafar Raja said, "We are delighted to work alongside the Special Olympics UAE on this wonderful partnership. Today's signing ensures that all GEMS Education students across our schools are now eligible to take part in a Special Olympics' United Sports event and we are sure that many will take advantage of this amazing opportunity to show their skills. We believe in the power of sports to develop our students in so many ways. Through sports, our students learn essential life skills such as teamwork, leadership, and resilience. They also develop physically and mentally, which contributes to their overall health and wellbeing. We are proud to have a long-standing record of promoting sports and inclusion throughout our schools as the UAE's largest and longest established private school provider.
It is the latest example of a long list of fruitful collaborations for GEMS with national entities in an area that is so important to us all – completely inclusive education."The Unified Champion Schools programme provides schools staff with development materials and resources to organise Unified Sports activities. The Unified Champions Schools Program also launched multiple seasons of the Unified Robotics Competition, the largest of its kind in the region. This competition promotes interaction and friendship between students of different abilities through teamwork in learning programming basics.