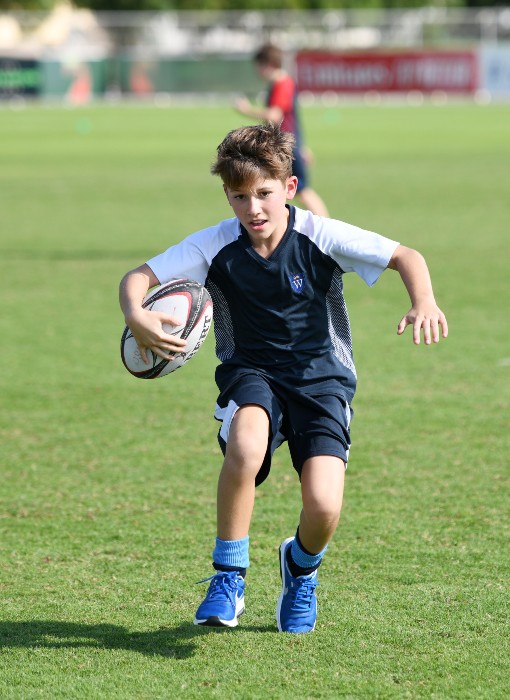 Sports at WSO
Our vision at the Academy is to ensure our students are World Class, World Ready. Through a combination of specialist teaching, first-class facilities and breadth of curriculum opportunities, P.E and Sport at WSO provides pathways for lifelong participation, physical activity and sporting excellence.
All students from FS1 to Post-16 gain experience in a rich and broad range of sporting activities during curriculum lessons, taught by specialist teachers. Our extensive range of co-curricular squads further enhances our curriculum.
Message from Mr Jason Kearins
Head of Academy Sports
Netball is a hugely popular sport at WSO with over 150 girls representing our Academy squads. We have 17 netball squads competing across the DAPSA and DASSA Leagues from U8 through to U19. We also have 8 players in our Elite Netball squad who compete in the adult Dubai Netball League and the Emirates Airline Dubai Rugby Sevens Open Youth Netball competition, alongside our Junior Elite squad who compete in the Active Netball Youth Social league. Each year, we represent in the BSAK and DESC 7's tournaments, as well as the GEMS Netball Cup, where our U16 squad are the current back-to-back champions.

Rugby is one of our main core sports at WSO. We have a developing partnership with Exiles Rugby Club, who provide expert coaches within our Primary and Secondary curriculum, as well as support our extracurricular provision. Our rugby squads range from touch rugby for Years 3-6 and our U19 girls, Quick Rip for our U13 and U15 squads and contact rugby for our Year 5 and 6 boys, as well as our U12, U14, U16 and U18 squads. Each year we compete in the DC 10's ,DESC 7's, BSAK, HSBC and the GEMS X tournaments. We have a huge number of students involved in rugby, and it is a popular choice for both boys and girls rugby.

Swimming is one of our most competitive sports at WSO, with more than 100 students representing our swim squads; we also have over 50 students in our development squad. Our swim squads from both Primary and Secondary compete in the DAPSA and DASSA leagues. Many of our students compete for clubs outside of the Academy, as well as internationally for their home country. We have a number of students who hold UAE records, as well as international records. Our major competitions are the DASSA and DAPSA Finals, the MEUC (Middle Eastern Unity Cup), as well as the GEMS Swim Cup, where we are current champions for all age groups.

Cricket is an ever growing sport at WSO and we now have more than 50 boys representing WSO in the major competitions across the year: the DASSA League and GEMS Cricket Cup. Our U13, U15 and U19 squads compete in both the hardball and tapeball competitions and have reached a number of semi-finals in both formats; an elusive final and trophy win is the next target for this year.

Football is another very popular sport at WSO with roughly 200 boys and girls representing our Academy squads. We have many A, B and Development squad for each year group competing across the DAPSA and DASSA Leagues. Both our Primary and Secondary squads compete in the BSAK, DESC 7's and GEMS Football Cup tournaments throughout the year. We also participate in friendly development tournaments to give all of the players an opportunity to represent the school as WSO Falcons.

Our Basketball squads from U10 through to U19 compete in both the DAPSA and DASSA leagues. As well as this, we have elite provision for our U18 players, who compete outside of the Academy in the Ball Above All Youth league; they will also be competing in the Dubai Sports Council League this year too. We have over 250 students involved in our squads. Last year, we developed the first GEMS-wide basketball initiative, GEMS Gladiators, which provides provision for the top basketball players across the GEMS network in Dubai. The aim of this programme is to provide a platform to develop and showcase their talents and provide basketball opportunities throughout the year.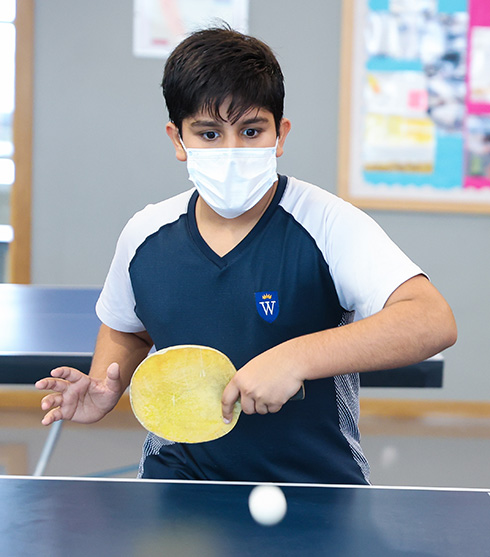 Additional Sports
(Available on specific terms)
Badminton
Golf
Athletics
Gymnastics
Volleyball
Handball
Trampolining
Hockey
Tennis
One of the Top Sports Schools in the UAE
The focus on student welfare at WSO also extends into Sport, with programmes on injury recovery, athlete welfare and nutritional advice, being an integral part of our Squads.
Primary's commitment to progressing elite sports is further enhanced through elite enrichment training for Years 3-6 in Football, Rugby, Netball, and Basketball.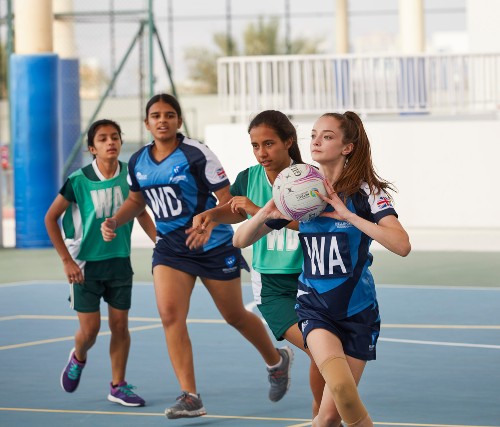 Our commitment to our elite level athletes in Secondary is evident through our unique 'Sports Development Academy', which was recognised as the 'Best Development Pathway within Education' in the UAE Teen Awards 2017.
WSO Primary was one of the 20 schools that participated in the 2019 World School Games. After our incredible success in 2018, winning the swimming and finishing fifth overall, we built on our success to finish fourth overall, against teams from all around the world over a three-day competition. Success across Primary and Secondary has resulted in WSO being nominated as 'Best School for Sport' in SchoolsCompared.com 2019 Awards.
Many students in Secondary choose to study GCSE P.E, in year 10 & Year 11, by completing four components over the duration of the course; two theory components, one coursework, and one practical unit. Two hours a week are dedicated to theory and one hour per week focuses on their practical skills. Involvement in outside clubs and associations can also contribute to the practical element.
Year 12 and 13 students have a choice of two pathways; BTEC Level 3 Extended Diploma in Sport (Development, Coaching and Fitness) or IB Sports Studies.
Our outstanding provision for Sport at WSO is the reason why our Physical Education Department was recognised as 'highly commendable' in the recent Middle East Journal Awards.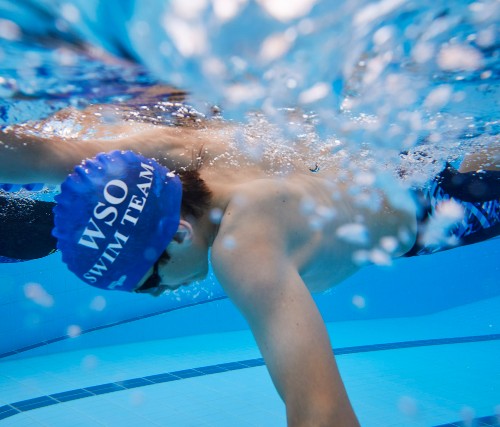 Sports Development Academy
The Sports Development Academy (SDA) is a two-tier youth development programme which involves our most talented sporting students from Years 7-10, with the aim to grow tomorrow's elite by developing the whole athlete, not just a physically fit athlete.
Both the Junior and Senior SDA students cover three strands across the year; Physical Literacy, Knowledge and Mindset. Too many young athletes train many hours a week, but only seek help when there is a problem. Our SDA programme aims to give these high achieving students the knowledge, physical literacy skills and mindset to deal with the pressures they are under as well as achieve their goals.
Unified Sports
In 2019, our school became the first educational establishment in the Middle East to achieve the Unified Champion School status. An accolade that promotes inclusion via recognising whole school engagement, youth leadership, and unified sports opportunities.

Unified Sports joins people with and without intellectual disabilities on the same team. It was inspired by a simple principle: training together and playing together is a quick path to friendship and understanding.
In Unified Sports, teams are made up of people of similar age and ability. It makes practices more fun and games more challenging and exciting for all. Unified Sports activities run throughout the school year with the support of an adult coach and can include opportunities for recreation, competition, and development.

Unified Sports can provide a way to break down barriers and promote inclusion. It helps reduce stigma and discrimination and changes the attitude of sports custodians in schools, who have the power to permit or deny children the right to take part in physical activity.

WSO students participate in Unified Athletics, Badminton, Basketball, Football, Fitness, Leadership, and Multi-Sport activities. Every year, our staff and students star in the setup and delivery of the Dubai School Games: Unified Games.
Partner school with Sport Leaders UK
Students at WSO have the opportunity to gain internationally recognised awards and qualifications through Sports Leaders UK. As a partner in the UAE, WSO facilitates this Sports Leader training, through the Leadership Academy Programme, which equips young people with employability skills for life by improving motivation, self-esteem, communication, teamwork, and confidence. Leadership volunteering is a vital part of all of the Sports Leader courses, allowing young people to practice and build their skills to help them in employment and education. From Primary Playmakers to Level 3 Leaders, we ensure that every is given an opportunity to be involved in sports.