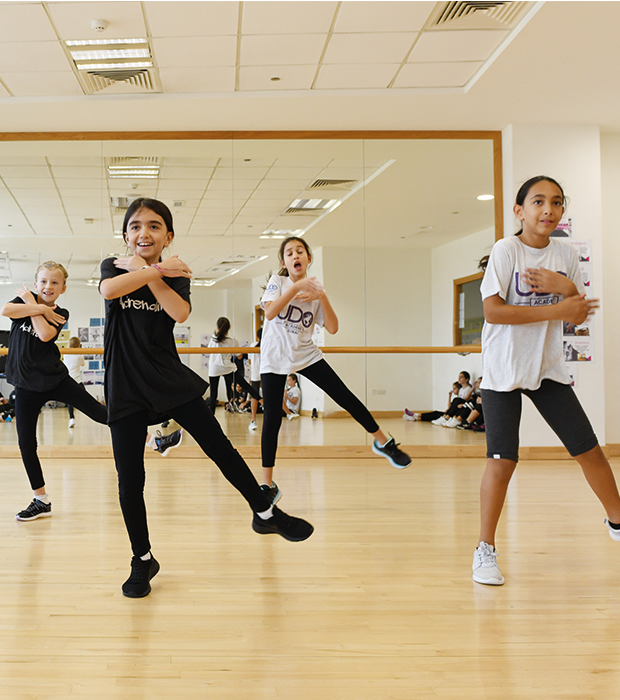 Performing Arts at WSO
GEMS Wellington Academy – Silicon Oasis – Centre of Excellence for Performance and Theatre Tech
The introduction of the Centre of Excellence for Performance and Theatre Tech is blending school, university and employment through hi-tech enabled pathways. Student pathways are designed from Foundation Stage through to Post 16 curriculum and enrichment provision. Qualifications such as UDO and LAMDA and industry integration such as West End Stage, UDO, SAE (Sound Audio Engineering), create unique learning experiences with greater relevance to the world of the future, this allows for early identification of emerging talent within the Performing Arts Academy.
BTEC Pathways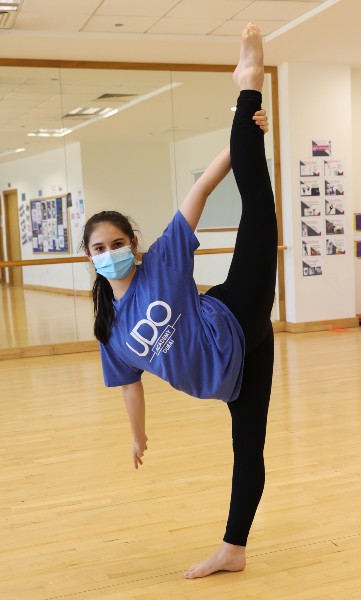 GEMS Wellington Academy – Silicon Oasis, Centre of Excellence in Performance and Theatre Tech are delighted to announce the launch of their new Level 3 BTEC Performing Arts programme commencing in September 2020, which will be open for all Year 12 students to apply from across the UAE. This course is equivalent to 3 A-Levels and will bridge the gap to leading conservatoires and careers within the Performing Arts Industry.
Our bespoke BTEC Performing Arts programme has been designed through our partnerships with ArtsEd and UDO.
Both partnerships have supported in the curriculum design, to ensure this is current and relevant to the industry today. Our highly skilled teaching staff will work in collaboration with international artists, venues and industry professionals to provide high quality training.
As a Centre of Excellence for Performance and Theatre Tech, working alongside West End Stage and United Dance Organisation (UDO), we are able to provide our students with a world class Performing Arts education.
We look forward to welcoming you to the WSO Performing Arts Family!
Our Centre of Excellence
'Watch our video to discover more about our Centre of Excellence for Performance and Theatre Tech from the WSO team and students.'
What our Parents have to say
Our son loves Performing Arts and wants to make it his profession. We looked at other schools for our son entering Secondary; none of them seemed to have the opportunities that WSO provide. Coming from a Performing Arts background, I can say that WSO really is an exceptional school for Performing Arts. It is their forte.

Katie Downey

Parent of Aidan Downey (Year 6)

This is our first year at WSO; a key factor for moving our boys to WSO was to expose them to more Music and PA opportunities. The school has exceeded our expectations, and both of our children, have grown and flourished within Music and PA. WSO has provided a rich and empowering platform upon which talents, differences and passions are embraced and realised. The deep knowledge and expertise of staff, combined with their own passion and enthusiasm creates a culture that drives personalised pathways so that each and every child succeeds and works towards their dreams.

Cheryl Pickering

Parent of Kori Pavitt (Year 6) and Kai Pavitt (Year 9)

Our Daughter has been a student at WSO since it opened its doors back in 2011, she discovered a passion for performing arts and with the expertise of the staff she has performed in many fantastic shows, the highlight so far was when she was given the opportunity to audition for Evita at Dubai Opera House, out of hundreds of school children, she made it to the final 12, she had the time of her life performing with the touring West End Cast, this opportunity of a life time wouldn't of been possible without WSO.

Now a secondary student, she enjoys her Elite musical theatre tutor group each day, they are always working of something exciting! Performing arts at WSO is truly outstanding and we look forward to the next school year

Nickie Willoughby

Parent of Teah Willougby (Year 7)

GEMS WSO have provided my daughters with fabulous opportunities in dance and choir. In partnership with UDO, my eldest was awarded a UDO Dance scholarship and has danced in the UDO World Championships in the UK as part of WSO's elite dance crew, Adrenaline. Under the watchful eye of Miss Tate and Miss Hodge plus the UDO professional industry dancers, Adrenaline has won numerous dance awards and competitions.

My youngest has been part of WSO's elite choir, Resonance for 4 years. Last year being awarded "Best a cappella choir" at Choirfest, hosted at Dubai Opera, was one of the year's highlights. Resonance were also invited to New York to perform at Carnegie Hall with the world-renowned composer and conductor Eric Whitacre. A truly memorable trip for all of the Resonance team.

Opportunities like these are rare and I feel privileged that my daughters are immersed in a school whose PA department is totally committed to nurturing their amazing, talented students.

Amanda Austin

Parent of Ella-Mae Austin (Year 8) and Holly Austin (Year 12)
What our Programme Managers have to say
Here at WSO we exceed the parameters of the traditional school music experience. Our holistic approach to Key Stage 1 & 2 Music teamed with our Music Therapy provides our learners with a well-rounded introduction to all elements of music in an encouraging and explorative nature. Our Key Stage 3 Concept Based curriculum challenges our students' creativity and development. Through the Centre of Excellence, I believe our efforts to expose our Key Stage 4 & 5 learners to opportunities beyond the walls of our school encourages creativity, progression and innovation at an industry and third level standard. We bring relevance and success to the forefront of our students' learning and we offer them bespoke unique pathways to complement their unwavering talent and progress. Finally, the opportunities we provide our students with outside of the curriculum encourage growth and development on multiple levels. I am extremely proud to be of this provision and I cannot wait to what our students produce for the coming academic year.

Darren Keane

Academy Music and Sound Technology Programme Manager

At WSO, we go above and beyond to train and grow students in Drama and Acting, while providing industry recognised qualifications and pathways to our students. We work with our university partner: ArtsEd and industry partner: ESMOD to provide students with incredible industry experiences. Our bespoke Performing Arts curriculum is also designed strategically with our professional partners, meaning that learning is bespoke, tailored and personalised. Through Drama, we help students develop their communication, confidence and co-ordination skills and create learners and performers who are well rounded and ready for the world. The expertise of our highly specialised team, paired with unwavering passion, means that we are able to provide exceptional Drama education; we strive to provide unique learning experiences that the students will remember for a lifetime.

Jodie Quirke 

Academy Acting and Production Arts Programme Manager

At WSO we want to make sure that all of our students have access to a variety of dance teaching styles and methods. Since the partnership with UDO Academy Dubai was formed, WSO Adrenaline Youth Dance Company students, GCSE and IB Students have been able to access UDO Instructors and the UDO Syllabus Street Dance Qualification as part of their exclusive training. The students have achieved incredible results over the last 6 years, with 100% pass rate and several students passing their UDO Instructors Street Dance Qualification. These students now volunteer within the Academy.

Teaching, developing and coordinating Dance pathways is our passion. We constantly strive to engage and inspire children of all ages and abilities, encouraging them to explore their personalities through movement, enabling them to be creative and imaginative.

WSO are committed to developing students' performance skills, knowledge and technique within Dance. The departments aim was to create something special at the school that the students, staff and school community can be proud of in years to come. This certainly has been achieved through the exciting Foundation Stage and Key Stage (1,2,3,4 and 5) dance lessons embedded within the Performing Arts Curriculum, the Adrenaline Youth Dance Academy pathway, the inclusive after school UDO Academy Dance Provision and the International Partnerships that have been formed with Arts Pool UK, Flawless and Sarita Piatrowski.

WSO were also recognised for our excellent Dance Provision and were awarded the Performing Arts Award "Best Dance School" in the UAE for an Academic School. We were extremely proud to have received this award and are looking forward to what the future holds.

Emma Tate 

Dance Programme Manager