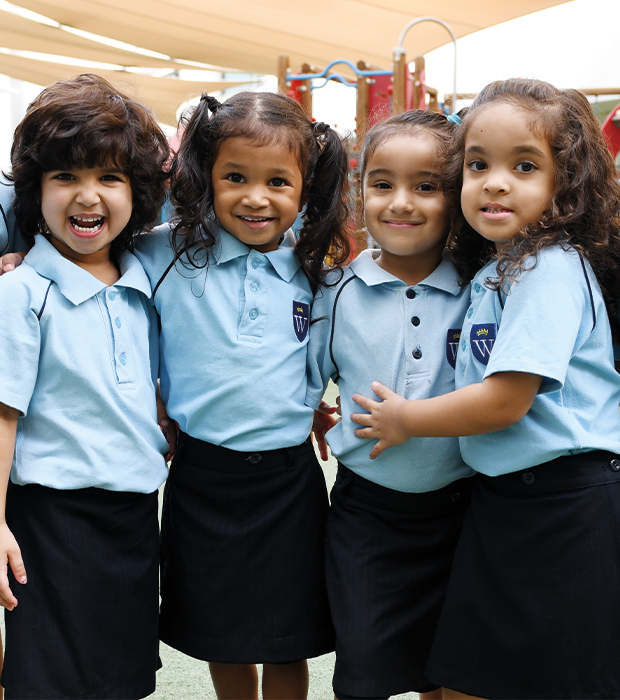 Admissions Overview
Admissions Overview
GEMS Wellington Academy - Silicon Oasis admits children in line with the KHDA regulations and the GEMS Education admissions policy.
For details on current availability in all other year groups we highly recommend contacting our Admissions Team at [email protected] or WhatsApp +971522894735, before completing your registration fee.
General Policy
GEMS Wellington Academy – Silicon Oasis prides itself on an admission policy that does not discriminate against any child or family. All children are welcome to apply, regardless of nationality, ethnicity or religion.
We are a truly international institution for those parents who wish their children to receive a British-style education.
English Language Learning
English is the language of daily teaching and operation at GEMS Wellington Academy – Silicon Oasis and, although we do provide some English language support for students from Years 2 – 9 for whom English is a second language, we do not have intensive remedial programmes for students falling more than a grade level behind in English language ability.
Intensive support to develop age appropriate English language skills may be offered to a limited number of students in each grade level. Parents may also be encouraged to provide additional support, at their own expense, for English language learning activities.
Class Size Policy
The teacher-student ratio for teaching in FS1 and FS2 is 1:23. In all other years it is 1:27. GEMS Education retains the right to increase class size when the situation warrants it, such as when students are set by ability for specific subjects. No class will operate with a teacher-student ratio in excess of 1:30. FS1 and FS2 have both a teacher and a teaching assistant in every classroom.
Application Requirements
Completed online receipts will be accepted if accompanied by an application fee of AED 525 (Application fee includes VAT and is non-refundable if the offer of a place is rejected, and non-transferable).
The KHDA (Ministry of Education) requires all families to submit the following documents for each child entering education in Dubai. Without these documents entry for your child may be refused.
One copy of the student's passport
One copy of both sides of the student's Emirates ID card (if available)
Two years of full school reports and any mid-year interim reports from the current academic year, must be included. REPORTS MUST BE IN ENGLISH. Nursery report required for Foundation Stage 1 and 2 children (if available). If your child has received any learning support/special education please provide all reports/information
Please note Applications will not be processed until full documentation and payment of application fee has been received.
Transfer Certificates
Every student is required by UAE Ministry of Education Law to produce a Transfer Certificate (TC) from their last school. This is strictly enforced and failure to produce a properly completed certificate, or a legally binding undertaking to produce all the necessary documentation, will result in your child's place being withdrawn. Please discuss your child's transfer certificate requirements with the Registrar, as your country of origin and last school is taken into consideration.
The Transfer Certificate (TC) must be on an official school letterhead
The form needs to be completed on the student's last day of attendance
It must be signed by the Principal and show an official school stamp
The original certificate must be presented

prior

to the first day of school.
The certificate must be in either English or Arabic
The original Transfer Certificate (TC) must contain the following information:
Full Name of Child
Date of Birth
Commencement Date at School
Grade/Class on Leaving
Leaving Date at School
Curriculum Used
How many years groups of offered (12 or 13)
Important instructions to parents – Attestation
If students are transferring from…

Document requirements…

Another Emirate in the UAE or any GCC Country

1. School Principal's signature and school stamp

2. Attestation by the Educational Authority in that Emirate OR attestation by the Ministry of Education in the GCC country

North America, Western Europe, Australia

1. School Principal's signature and school stamp

Middle East (Excluding UAE), South and Central America, Asia, Russia and former Russian states, Eastern Europe, Africa, New Zealand

1. School Principal's signature and school stamp

2. Attestation by the Ministry of Education in the country of origin

3. Attestation by UAE Consulate or Embassy in the origin country OR by the Ministry of Foreign Affairs in the UAE
Eastern Europe includes :- Belarus, Bulgaria, Czech Republic, Hungary, Poland, Moldova, Romania, Russia, Slovakia, and Ukraine.
NB: The corresponding year group is of vital importance and the Ministry of Education may refuse the child entry if the year group does not correspond with that of the new school. Children from overseas will be placed as per age only in FS1 to Year 2 as per KHDA guidelines.
Entrance Assessments
All students admitted to Years 3 - 13 will be required to sit an age-related placement test to ensure that he / she is prepared for the high quality education on offer at GEMS Wellington Academy - Silicon Oasis. Younger children may also be asked to sit an assessment if they have been studying a different curriculum. For all applications, the child's latest school report is used instead of an interview, and as a result of that scrutiny it might be that we then ask for a test to be taken by younger children too.
When applications are from overseas, GEMS Wellington Academy will contact the child's existing school to courier placement tests so that the children may undertake these in their own school. The expense of this action is to be borne by the parents of the child making the application.
Offer of a place is not solely based on the entrance test, and all parents should provide GEMS Wellington Academy - Silicon Oasis with the most recent copy of their child's school report when submitting an application form.
For any further information regarding the GEMS Wellington Academy - Silicon Oasis admissions process, please do not hesitate to contact us.