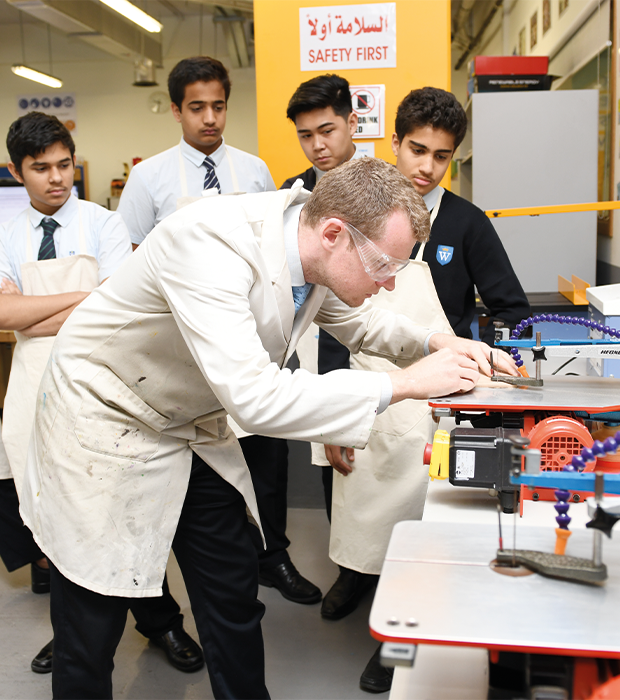 Teaching and Learning
We provide innovative approaches incorporating competence development, blended learning and personalised qualification pathways.
GEMS is the natural evolution of over 50 years of success-proven experience and vision - to bring a unique brand of quality education to communities around the world. Our core educational values: Global Citizenship, Pursuing Excellence, Growing by Learning and Learning through Innovation are combined with an innovative, relevant approach to education.
GEMS Wellington Academy - Silicon Oasis focuses on a holistic education that combines a wide range of academic, pastoral and enrichment activities to provide innovative learning experiences fit for C21st students. We offer one of the widest varieties of internationally recognised and accredited qualification programmes in the region, as well as developing individual talents through specialist academies in sports, performing arts, modern foreign languages, and within the STEAM and Digital arenas.
Our programme outline is as follows:
The UK Early Years Foundation Stage (Including Nursery ages 2-5)
The National Curriculum for England (ages 5-14)
International accredited UK based Qualification Pathways for GCSE & iGCSE (ages 15-16)
The International Baccalaureate Diploma & Careers Related Programmes, A' Levels and BTEC (ages 16-18)
We prepare our students to face the challenges of the future by creating learning experiences and programmes genuinely relevant to C21st and real-world experiences. Our innovative approach incorporates the values, attitude and attributes as well as the advanced cognitive performance characteristics idenitifed for success by High Performance Learning and personalised qualification pathways. Our teachers are specialists in their fields and encourage our students to explore their learning in depth, be innovative problem-solvers, decision-makers and develop into informed, confident and active global citizens with a strong sense of self and character.
In order to do this, students will learn in a variety of ways and develop the competences and capabilities to be flexible, adaptable and resilient in their studies. Combining the very best of classroom, digital, and independent learning methods, our students truly excel in their studies and individual talents. We want every student to not just reach their potential, but to surpass it.
High Performance Learning(HPL)
WSO is currently embarking on their world class school's award with High Performance Learning. From 2021 - 2023, WSO will explore and develop the 20 generic characteristics which students need to develop if they are to be high performers in cognitive domains (ACPs) and 10 values, attitudes and attributes (VAAs) that develop the wider learner dispositions needed for cognitive and lifetime success.
Advanced Cognitive Performance Characteristics (ACPs)
Metathinking

Linking

Realising

Creating

Analysing
Values, Attitudes and Attributes (VAAs)

Empathetic

Agile

Hardworking
This award recognises the very best schools in the world and is designed for schools at the forefront of educational thinking. More than 70% of schools (in more than 15 countries) that have adopted HPL in the last 10 years have experienced their best student outcomes as a result. We can't wait to explore HPL more over the next few years!