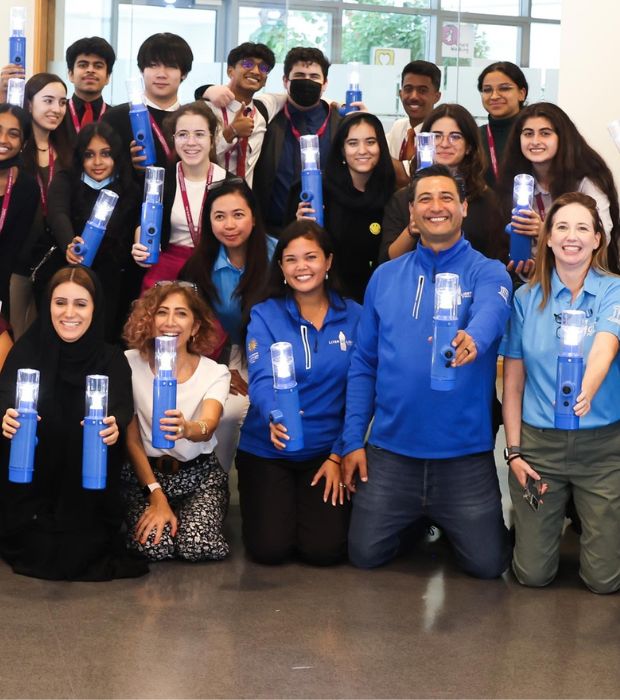 The WSO community came together to build more than a 100 solar lights, for communities in Egypt living in poverty.
About 70 Year 11 to Year 13 students, and parents rallied to support Liter of Light's campaign #lightitforward, a challenge to light up the world for those who live without electricity.
"It is truly wonderful to see such enthusiasm and support from students and parents. I am truly thankful for each person here. This is what it is all about helping make something physically, for someone else," says Founder of Liter of Light, Illac Diaz, who along with his wife, foundation's Board of Trustees, Ami Valdemoro, were on hand to help guide everyone. Volunteers were given hands on training on how to assemble the lights, which will be turned into pieces of artwork as a message to world leaders about climate change.
This solar artwork will be installed at the base of the Pyramids in Giza, Egypt and will be an expose for the COP 27 conference in late October. The not-for-profit organisation has already helped 382,000 Filipinos, and 690,000 people throughout the world get out of energy poverty. Thanks to a clever and environmental-friendly lighting concept, made out of recycled plastic bottles, this achieves the goal of bringing light to poor areas while at the same time avoiding to rely on traditional and centralised energy providers such as coal, nuclear or even hydro plants.
The Light It Forward campaign promotes awareness of the local education community's vital role in combatting climate change and promoting sustainable development. With the UAE hosting the UN Climate Change Conference (or COP28) in 2023, the solar message has been designed to build on Expo 2020's commitment to act to protect the planet.
"The climate change conference in the UAE will be one of the most important opportunities to make a better future for people and planet, especially inspiring youth to be part of this historical moment," says Mr Diaz. Liter of Light was one of Dubai Expo 2020's Expo Live Programme winners. The programme, founded under the guidance of UAE Vice President Ruler of Dubai, HH Sheikh Mohammed bin Rashid Al Maktoum, is an innovation and partnership initiative dedicated to funding and accelerating creative solutions so that everyone on Earth can enjoy sustainable, prosperous future.
"To have Illac Diaz come over to WSO to train our students to build solar lights was absolutely amazing and an honour," says Head of ICT and Computer Science Department, Shafaque Riaz."For us to be part of this campaign gave us a great sense of achievement and pride by playing our role in creating awareness about climate crisis and helping #LighItForward!" The hand-built lights and handwritten messages of hope that each individual put together will be showcased at Art d' Egypt, which will be unveiled on 27th October, in the lead up to COP27.