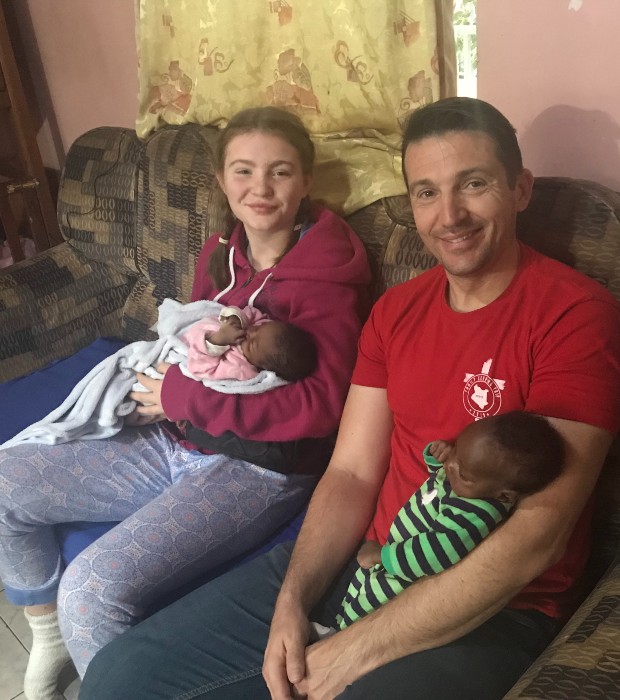 Reece family charity trip to Kenya
Both Craig and his wife teach at WSO and his children Una and Erin are both students at the school.
Una's perception and experiences from her charity trip to Nairobi, Kenya.
Hello, my name is Una Reece, and last Christmas I went to Kenya with my family. Being an 11-year-old girl in Kenya helped me to create an outline to what I hope a can be my future. It has inspired me to become a teacher and specialize in helping Students of Determination. In the orphanage where we were volunteering there was a room dedicated to SEND children and this time more than last, I felt a connection between me and the children in that class. Like every child, I want to earn money, live in a big house etc. but being in Kenya helped me realise that happiness is found in helping others and not in objects. The children over there didn't have any source of technology. No phones, laptops, speakers, TVs - they barely had any toys between them but I realised that, despite their hardships, they were spontaneously happy, and they found happiness in creating games. They found joy in rolling some old tyres around and collecting rocks. They were a community and as much as we went there to help them, they helped me more. I have never been so happy, grateful, and thankful for what I have over here. They taught me to live in the moment and to enjoy our blessed lives as there are so many people out there who have got an awful lot less than us but are far more content.
Erin's perception and experiences from her charity trip to Nairobi, Kenya.
The trip my family made to Kenya this winter break was the best trip I have ever been on. It truly was a special experience and really made me open my eyes and seek new adventures. As well as that it was a great opportunity to give back and help people less fortunate than us. First, we went on the family serving trip to Kenya with our church back in April and it was great. However, we were on a pretty tight schedule and we were a much bigger group. This time we had a lot of our own planning and it allowed us to take more time with the babies. On this trip I had time to talk to the Jesse Kay Hospital manager, as they are on the same campus and it is owned by the same people. I was asking about getting work experience in a hospital because I knew I wanted to do something in the medical field in the future. They set me a schedule working all over the hospital as well as doing time in the local pharmacy. I got the opportunity to spend time in the labs, work in A&E and work shifts in the Children's Ward. It was an amazing experience to have and I now know, because of working in the maternity ward and baby wards that I want to be a midwife and travel to countries like Kenya to help make a difference. I would highly recommend doing something like this especially with your family as it really does change the way you look at the world and it helps you to consider your own plans for the future.
Craig and Eimear's experiences from there charity trip to Nairobi, Kenya.
When stepping off the plane in Nairobi in December 2019 we instantly thought that we couldn't believe we were here again. A year prior to this trip we had sat down as a family and decided to sacrifice our presents that Christmas to give to people less fortunate than ourselves. We used the money we had saved to book a trip to Kenya in April 2020. Little did we know that this place would capture our hearts and become the place that all four of us felt most alive and at home.
Our first trip consisted of going to help restore a Library that had recently burnt down but we soon realised there was a different reason for us to be there. After helping with the babies in Nairobi we left to go to a small place call Juja about an hour outside Nairobi. Here is where the children start school and continue until they turn 18. After all, 32 of us restored the Library we felt drawn to help the Children of Determination and we transformed their classroom into the Sunshine Room. This has now become the most popular classroom in the school and the Children of Determination feel even more included as other students come to play and learn in their classroom. Looking from the outside, the children in Happy Life had a very difficult life but through grace, volunteers and donations from all over the world things are rapidly developing.
In the summer, we asked our daughters where they would like to go for Christmas thinking they would decide which family members we should visit but they both asked to return to Kenya. This time we organised the trip and along with a few friends, we travelled back to our happy place in December 2019. We definitely didn't travel light, we had 29 suitcases of presents that we brought for the children and later discovered resulted in all 160 children receiving their first Christmas gift specifically for them with their name on the label, this really meant so much to them, some children just held their wrapped gift for hours not even opening it. Seeing their faces light up when they received their gifts are moments we will never forget. They opened their presents, wrapped them up and reopened them time and time again because they wanted to relive that feeling.
On December 25th, we took all the younger children for an Ice cream in the local mall. They had never been out of the Children's Home before never mind had an ice cream. When we saw their tongues touch the ice cream for the first time the look of excitement and confusion was amazing! They didn't want something that cold in their mouths yet they wanted to keep eating it but they got used to it. There were so many new experiences for the children within the 10 days we were there. The older children got to experience the jigsaws and board games that we brought and we spent evenings singing new songs and teaching them dances. These new experiences were definitely some of our highlights.
As a life changing whole family experience, we would highly recommend volunteering in Kenya to anyone, the children and staff at Happy Life Children's Home are so grateful to see anyone who has time for them. We are already planning our next trip back this year and now that we know the need we feel we can create projects that can benefit the children and the staff hopefully more long term. It has truly changed our family's approach to life we all feel driven to help others so we will continue to serve and ask for so much less. As parents, we will be eternally grateful to the children and staff at Happy Life for enabling our daughters to experience such joy, such love and such simplicity in a way that has transformed their dreams for the future.
More Photos of Our Kenya Trip